CUSH is an issues-driven organization that is volunteer led.  Current Task Force issues are detailed here, but they will and should change over time. Please contact us if you are interested in getting involved.
Solar Panels
CUSH's Solar Panels Task Force was created by a group who is passionate about bringing energy independence to a list of public and privately owned buildings in downtown Kenosha and in the  Kenosha Innovative Neighborhood (KIN) project.  If you are interested in joining this task force, please contact Pastor Jonathan Barker at  jonathan.w.barker17@gmail.com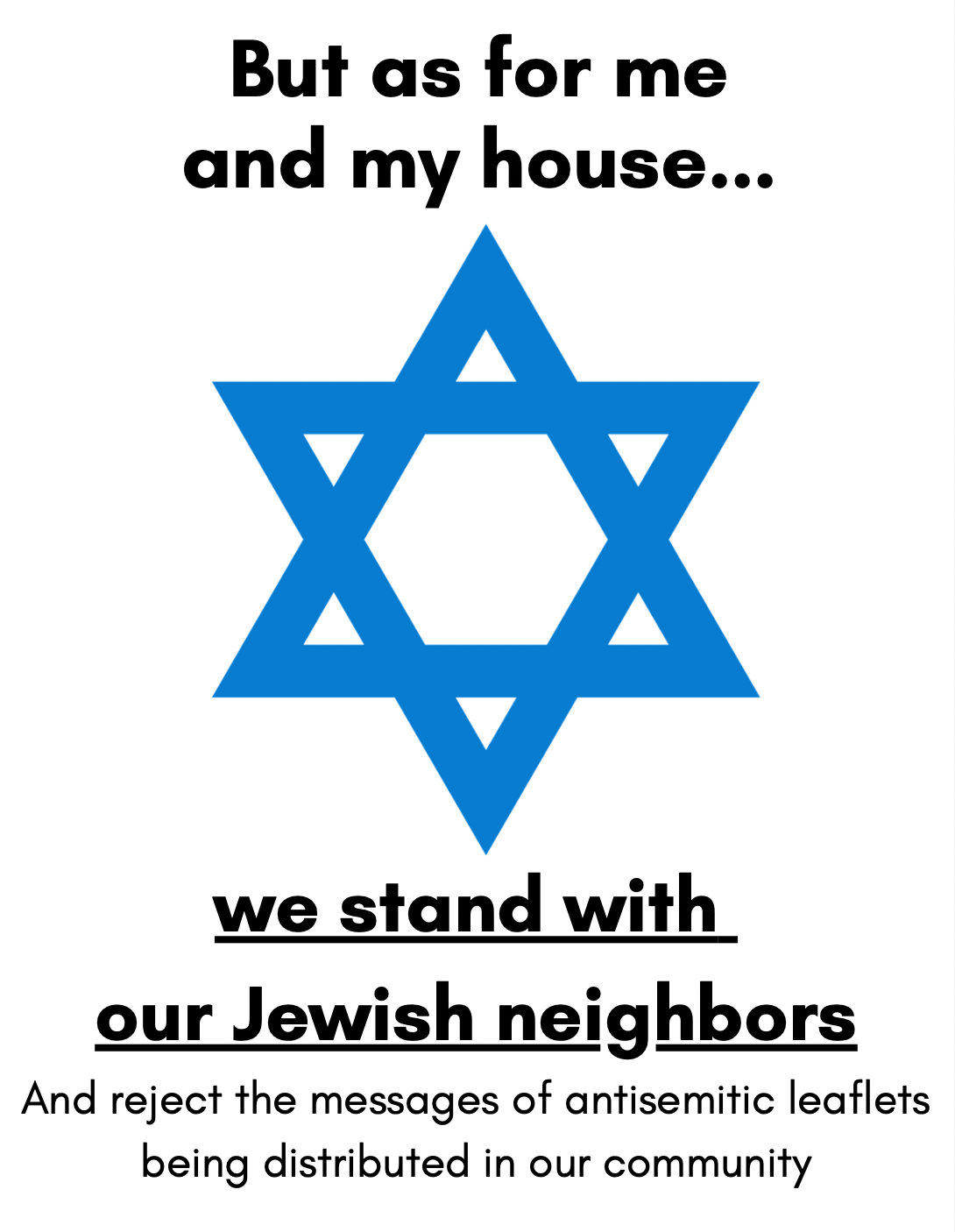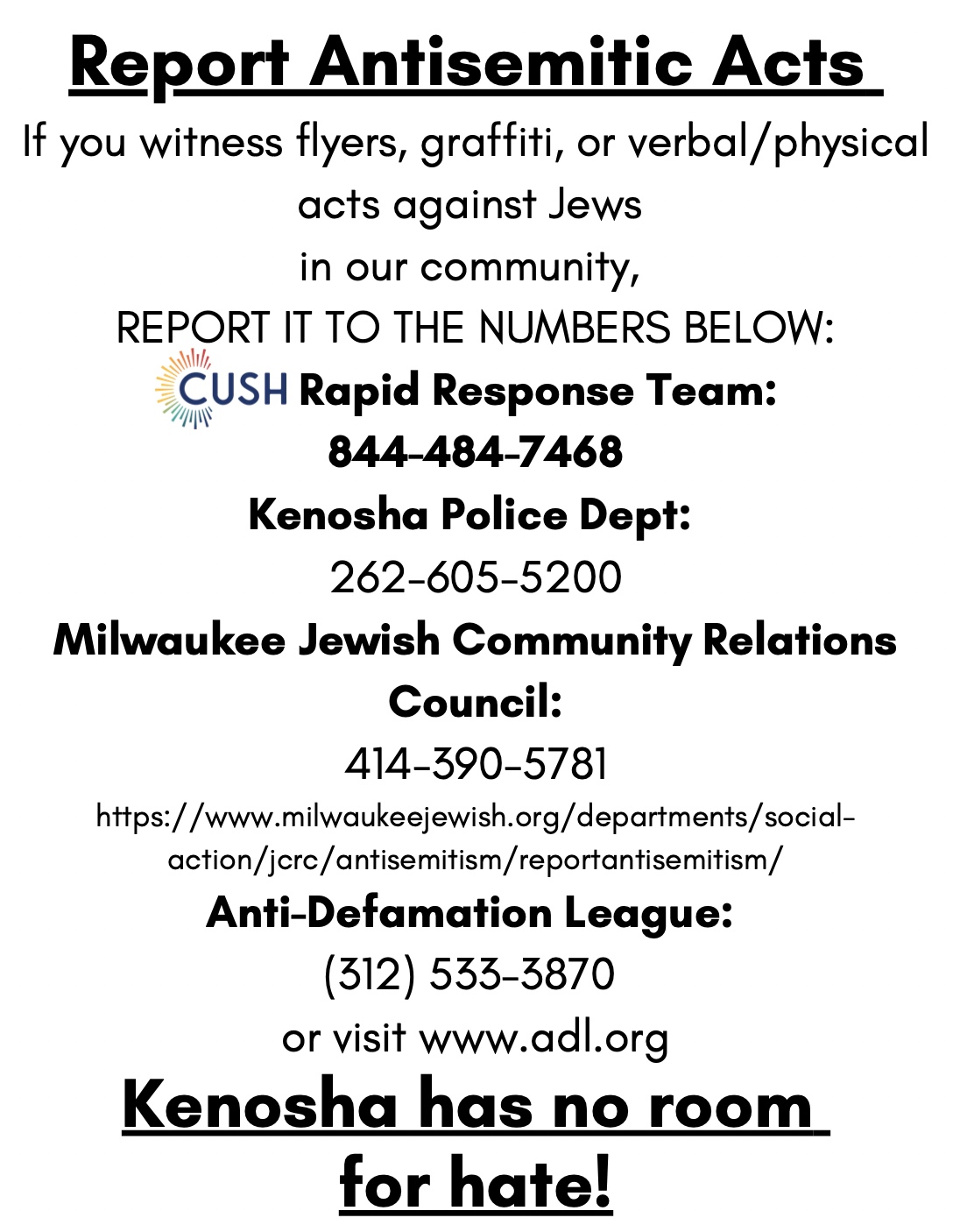 We Stand WITH Our Jewish Neighbors and AGAINST Antisemitic Racism
As a result of the antisemitic leafleting that has occurred in several Kenosha neighborhoods on over a dozen occasions since last December, CUSH is forming a Rapid Response Team to remove the offending leaflets when they are dropped.  Doing so will lessen their intended impact on the targets and on our community. The organizing team has consulted the Kenosha Police Department in this effort, and we are following the recommendations that they have shared.
When leaflets are dropped, this team will mobilize to that site to remove them.  Captains are needed to be on call one day each week.  Team Volunteers will be notified by a captain when a rapid response is needed.  As stated, CUSH has consulted the Kenosha Police Department in this effort, and we are following their recommendations. Since all leafleting has occurred in the early morning, Rapid Response team members will most likely be needed to respond quite early.
In addition, the CUSH Rapid Response Team will be distributing signs to neighbors in targeted areas to display in their windows as a sign of solidarity with their Jewish neighbors throughout Kenosha.  The back of the sign gives instructions about what to do if you experience leafleting in your neighborhood.
Download your window sign below by clicking on the graphics to the left (front and back of the sign).
We, at CUSH, are grateful for this community that stands against racism in all its forms along with us.
Immigration
The Immigration Task Force was formed to work toward just and fair reform that will allow immigrants a path toward a legal presence in our country and fair treatment and respect for the rights of all immigrants in our community.
Contact Chair Sandy Milligan at samilligan4750@gmail.com for information about the next meeting.
Afghan Resettlement Household Volunteers Needed:
Please contact our Chair (above) if you have the capacity to help with providing our new arrivals with rides, making Kenosha feel like home, or to share any of your special talents.
Life at Our Southern Border
is a program about life at a migrant encampment presented by Sr. Judy Seiberlich, OP and Sr. Erica Jordan, OP of the CUSH Immigration Task Force
This presentation was given live over Zoom on Tuesday, March 29th.
Racial Equity
CUSH's Racial Equity Task Force is committed to addressing biases both implicit and explicit in ourselves, in our local institutions, and in our own neighborhoods.  If you are interested in helping us in our work, please contact us at CUSHKenosha@gmail.com.
Transportation
The Transportation Taskforce was formed to help residents, seniors, people with disabilities and those with limited income to live more self-sufficient lives through access to quality transit services.
If you are interested in finding out more or joining this work, please contact Chair Rich Mich at shercookr@yahoo.com.
Night Shelter
This task force is currently on hiatus as it uses the summer to do research for cutting a new issue.  Once the group reconvenes in September to decide on its next issue action, there will be ways to get involved in their efforts.  If you would like to help this group on its path, please contact us at CUSHKenosha@gmail.com.