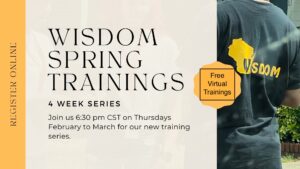 Madison Action Day is Thursday, April 27th. 
It is WISDOM's biggest action day every two years, and you are invited to be a part of the CUSH effort.  What is Madison Action Day?  On this day, we visit our legislators at the Wisconsin State Capitol to talk about why WISDOM and CUSH issues must be funded in our state budget.  CUSH and WISDOM are committed to giving you the tools to be prepared and ready!  It's a fun day in Madison with a group working together to bring greater equity and justice to Wisconsin.
Sign up for our free online trainings to be prepared:
Thursday Feb. 9, 6:30 pm: State Budget 101
Thursday Feb. 23, 6:30 pm: WISDOM Budget Issues
Thursday March 9, 6:30 pm: Telling your Story
Thursday March 23, 6:30 pm: Working with Legislators
We will also offer the opportunity to sponsor someone to attend and for someone to attend via scholarship.  
Our goal is to bring upwards of 20 CUSH participants to show up and show out with the rest of WISDOM!  Please join us – and bring a friend!